金力永磁稀土行情简报2141期(总第398期)11-29~12-03
更新時間:2021-12-06 17:57:00 回数を訪問します:194
JL MAG Rare-Earth Industry Price Briefing 11-29~12-03

Week 49,2021
1. 重要新闻简报Briefing of Important News
本周稀土市场行情,镨钕、金属钕、镝铁和铽的价格小幅上涨。亚洲金属网周末价格: 镨钕金属价格1050-1060元/KG;金属钕价格1090-1100元/KG;镝铁合金价格2910-2930元/KG;金属铽价格14150-14200元/KG。
This week, prices of PrNd, Nd metal, DyFe and Tb rose slightly. Prices from Asian Metal at this weekend presented: PrNd metal 1,050-1,060 RMB/KG; Nd metal 1,090-1,100 RMB/KG; DyFe alloy 2,910-2,930 RMB/KG; and Tb metal 14150-14200 RMB/KG.
2.业内人士分析Analysis of Professional Insiders
本周稀土市场整体走势从强变弱,虽供应面仍是偏紧,但低价散货的偶有报出,氧化物强劲势头难有延续,金属及磁材的畏高谨慎及对后市的捉摸不透,均保持稳健观望的态度,整体走势偏弱稳。
The overall trend of the rare earth market has changed from strong to weak this week. Although the supply side was still tight, low-price of bulk cargo occasionally reported. The strong momentum of oxides was difficult to continue. Metal and magnetic fear high caution and unpredictable to the future market, all maintained a steady wait-and-see attitude, and the overall trend was weak and stable.
经历上周的暴涨,价格回归于市场,虽然需求的支撑面仍可见,但在过高价位后的冷静与理性逐渐占据主导,当金属厂订单欠弱,镨钕对锁小量补单的高成交后,市场又归于平静。其中镨钕主动让利表现为高位被动下压;镝铽产品走势不明表现为高报价少成交;钆钬产品本周稳步上扬表现为少量成交带动高价持稳。
After last week's surge, prices returned to the market. Although the supporting surface of demand was still visible, calmness and rationality gradually dominate after excessively high prices. When purchase orders from metal factories are weak, for PrNd locking a small amount of orders have a high turnover, the market returned to calm. Among them PrNd actively yield the high passive pressure; Dy and Tb products unknown performance for high price less transaction; Ga and Ho products have been steadily rising this week as high prices held steady on light volume.
短期预测:从本周走势来看,由涨趋稳,下游的需求支撑仍存在,但目前大集团,平抑及稳价的意味已经很明显,短期内镨钕产品主流价位或将维系在当下,区间或会收窄,同样,进入到年尾,各企业的资金回笼及指标陆续完成后,在操作上相对保守及克制。中重稀土方面,消息面比较杂、乱,真实信息尚需一段时间来辩,但镝铽较大概率有弱调的可能,当然,市场各参与方在谨慎与观望中并存。后续来看镝铽有比镨钕更高的风险,但同样基于高矿价的成本支撑与集团的稳控效应,调整空间或趋缓。(瑞道稀土资讯)
Short-term forecast: Judging from the trends this week, from the rise to stabilization, downstream demand support still exists, but at present, the meaning of stabilization and price stability for large groups is obvious. In the short term, the mainstream price of PrNd products may remain at the present. The range may be narrowed. Similarly, as the end of the year, companies will be relatively conservative and restrained in operation after their capital withdrawals and indicators are completed one after another. In terms of medium and heavy rare earths, the news more mixed, and it will take some time to debate the real information. However Dy and Tb are likely to be weak. Of course, all market participants are cautious and wait-and-see. In the future, Dy and Tb have a higher risk than PrNd, but also based on the cost support of high mine prices and stable control effect of the group, the adjustment space may slowed down. (Ruidao Rare Earth Information)



南方稀土发布

11

月

29

日稀土氧化物挂牌价
Listing Price of Rare Earth Oxides on November 29th from China Southern Rare Earth
单位:万元/吨(出厂含税价)
Unit: 10 thousand RMB/ ton (EXW price incl. tax)
产品目录Product list

纯度

Purity

11月22日挂牌价

Listing Price on November 22nd

11月29日挂牌价

Listing Price on November 29th

涨跌Rise/Fall

氧化钐

Sm Oxide

≥99.5%

2.5-2.55

2.5-2.55

a0

氧化铕

Eu Oxide

≥99.99%

21-21.5

21-21.5

0

氧化钆

Ga Oxide

≥99.5%

38.5-39

44.5-45

+6

氧化铽

Tb Oxide

≥99.99%

1040-1060

1100-1120

+60

氧化镝

Dy Oxide

≥99.5%

290-295

292-297

+2

氧化钬

Ho Oxide

≥99.5%

117-119

120-122

+3

氧化铒

Er Oxide

≥99.5%

35-35.5

35.5-36

+0.5

氧化镱

Yb Oxide

≥99.99%

13.5-14

13.5-14

0

氧化镥

Lu Oxide

≥99.99%

525-535

525-535

0

氧化钇

Yt Oxide

≥99.999%

6.1-6.3

6.7-7.0

+0.65

氧化钪

Sc Oxide

≥99.99%

900-905

900-905

0
3.趋势图(参考亚洲金属网)Tendency Chart (refer to Asian Metal)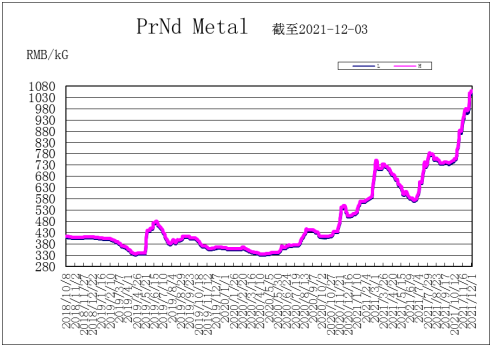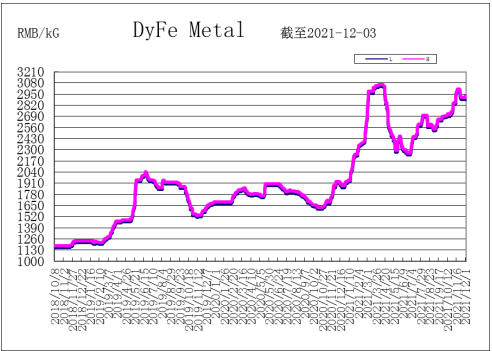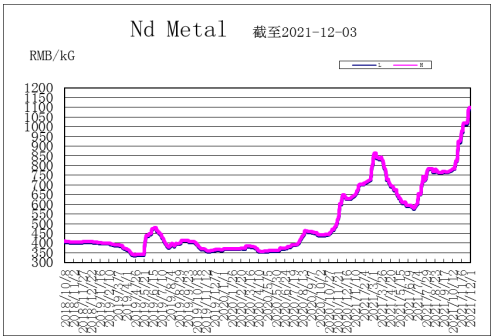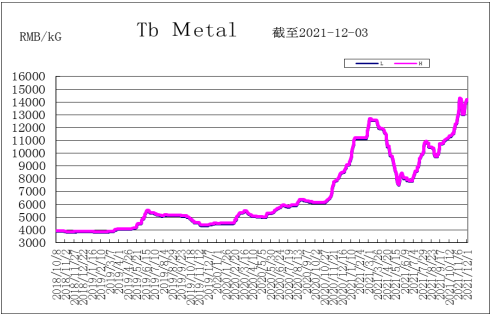 2021年12月03日
December 03rd, 2021
提示:以上信息仅供参考!
Notes: the information above is for reference only!