金力永磁稀土行情简报2135期(总第392期)10-18~10-22
更新時間:2021-10-25 12:13:00 回数を訪問します:287
JL MAG Rare-Earth Industry Price Briefing 10-18~10-22
Week 43,2021
1. 重要新闻简报Briefing of Important News
本周稀土市场行情,镨钕、金属钕、铽和镝铁的价格小幅上涨。亚洲金属网周末价格: 镨钕金属价格795-800元/KG;金属钕价格820-825元/KG;镝铁合金价格2720-2740元/KG;金属铽价格11500-11550元/KG。
This week, prices of PrNd, Nd metal, Tb and DyFe have a slightly rise. Prices from Asian Metal at the end of this weekend presented: PrNd metal 795-800 RMB/KG, Nd metal 820-825 RMB/KG, DyFe alloy 2,720-2,740 RMB/KG, and Tb metal 11,500-11,550/KG.
2. 业内人士分析Analysis of Professional Insiders
本周整体稀土市场热度空前高涨,全线产品持续上涨,尤其镨钕产品的价格已经突破几年来的高位,同期,伴随价格的高企,成交也逐步放量。镝铽产品周前期的弱稳到周后期的情绪带动,价格重回高位。本周其他稀土产品也不同程度的出现上涨,镨钕的翅膀煽动了整个稀土产品货紧且价扬。
This week, the overall rare earth market has experienced unprecedented enthusiasm, and the entire line of products has continued to rise. In particular, the price of PrNd products has reached the highest level in the past few years. Over the same period, with the high price, the transaction volume has gradually increased. Dy and Tb products' stability in the early part of the week are influenced by market atmosphere in the later part of the week, the prices returned to high levels. Other rare earth products have also risen to varying degrees this week, and the condition of PrNd have incited the entire rare earth products to be tighten and price-increased.
氧化镨钕报价坚挺,金属镨钕本周开始结束倒挂,随着成交的放量,金属厂库存继续压缩,江西,四川等省的限电公告一出,低价位的氧化物及金属不再有货,秘而不出的工厂增多,在分离及金属厂库存一再压缩的同时,不报价的声音充斥业内。重稀土在镨钕上涨节奏的带动下,及缅甸开关悬而未决的情况下,报价稳中上调,虽惜售情绪未有明显扩散,但可成交价格却实质性提升,同时,下游采购畏高进入也较明显。
The quotation of PrNd oxide is firm, and PrNd metal ends revered price this week. With the increasing volume of transactions, metal factory stocks continue to compress. As soon as the power rationing announcements in Jiangxi, Sichuan and other provinces are issued, low-priced oxides and metals are no longer available. While separation and metal factory inventories have been repeatedly compressed, the industry is full of the voice of not quoting. Driven by the rising rhythm of PrNd and the pending situation of the Myanmar, the quotation of heavy rare earths has been steadily raised. Although the reluctance to sell has not spread significantly, the transaction price has increased substantially. At the same time, it is obvious that downstream purchases are afraid of placing orders on high prices.
此轮价格上涨逻辑主要有五点:1.限电确实转移了部分订单至其他磁材厂,导致整体表现需求增多。2.部分下游对年底电力的预估,迫使生产速度加快,有采购需求。3.磁材的下游企业认为限电会导致磁材供应减少而部分释放了需求。4.此前业界预判的做空,使产业链均保持低库存状态而触发了供需短暂的失衡。5.江西、四川等省的限电消息的出台,加速了主产区捂货的情绪。(瑞道稀土资讯)
There are five main logics for this round of price increases. Firstly, power rationing does transfer some orders to other magnetic material factories, resulting in an increase in overall performance demand. Secondly, some downstream estimates of electricity at the end of the year have forced production to accelerate and there is a demand for purchases. Thirdly, the downstream companies of magnetic materials believe that power rationing will reduce the supply of magnetic materials and partially release the demand. Fourthly, the industry's pre-judged short selling has kept the industry chain low in inventory and triggered a short-term imbalance between supply and demand. Fifthly, the announcement of power rationing news in Jiangxi, Sichuan and other provinces has accelerated the mood of holding goods in the main producing areas. (Ruidao Rare Earth Information)
南方稀土发布

10

月

18

日稀土氧化物挂牌价
Listing Price of Rare Earth Oxides on Oct. 18th from China Southern Rare Earth
单位:万元/吨(出厂含税价)
Unit: 10 thousand RMB/ ton (EXW price incl. tax)
产品目录

Product List

纯度

Purity

10月11日挂牌价

Listing price on Oct. 11th

10月18日挂牌价

Listing price on Oct. 18th

涨跌

Rise/Fall

氧化钐

SM oxide

≥99.5%

1.3-1.35

1.3-1.35

0

氧化铕

Eu oxide

≥99.99%

20-20.5

20-20.5

0

氧化钆

Ga oxide

≥99.5%

26.2-26.5

27.7-28

+1.5

氧化铽

Tb oxide

≥99.99%

880-890

882-892

+2

氧化镝

Dy oxide

≥99.5%

270-275

271-276

+1

氧化钬

Ho oxide

≥99.5%

100-102

104-106

+4

氧化铒

Er oxide

≥99.5%

21.5-22

27.5-28

+6

氧化镱

Yb oxide

≥99.99%

13-13.5

13-13.5

0

氧化镥

Lu oxide

≥99.99%

500-510

500-510

0

氧化钇

Yt oxide

≥99.999%

4.6-4.8

4.8-5.0

+0.2

氧化钪

Yt oxide

≥99.99%

900-905

900-905

0
3. 趋势图(参考亚洲金属网)Tendency Chart (refer to Asian Metal)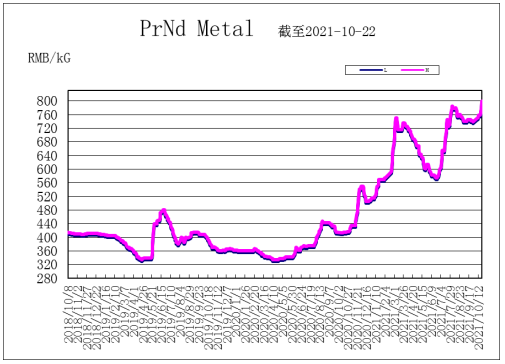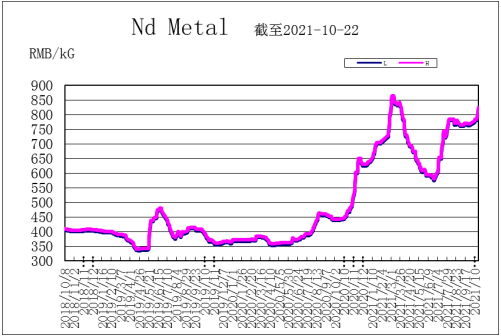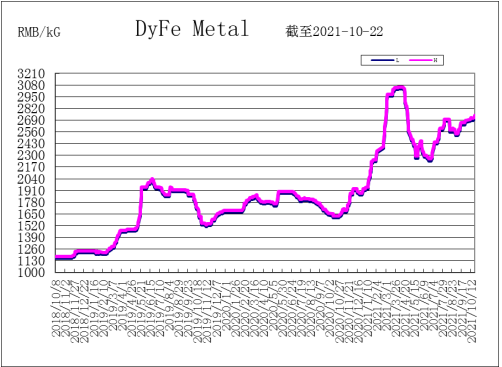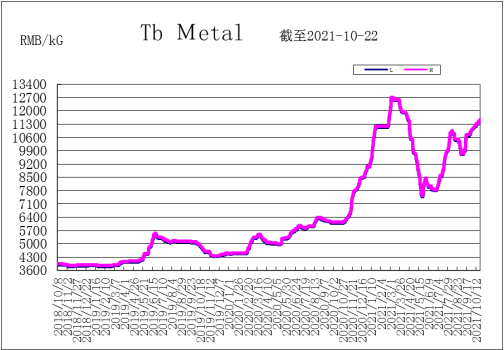 2021年10月22日
October 22nd, 2021
提示:以上信息仅供参考!
Notes: the information above is for reference only!